I think we've started to hit the rain season. At least, it was raining the past week or so. Today it stopped.
I was starting to feel melancholy and was thinking of some rain-warming meals I could make. I had an Acorn Squash for decoration, and though something soupy and spicy would be delicious for a rainy day. It didn't rain, but I still made my acorn squash chili.
Acorn Squash is a winter squash that is really sweet when roasted and is also great for pies. For me, it's easier to handle than a butternut squash, but it's not as nutritious (still just as delicious). If it's not being cooked, it's acting as the centerpiece for my table during fall. Never cook with a sugar pumpkin1…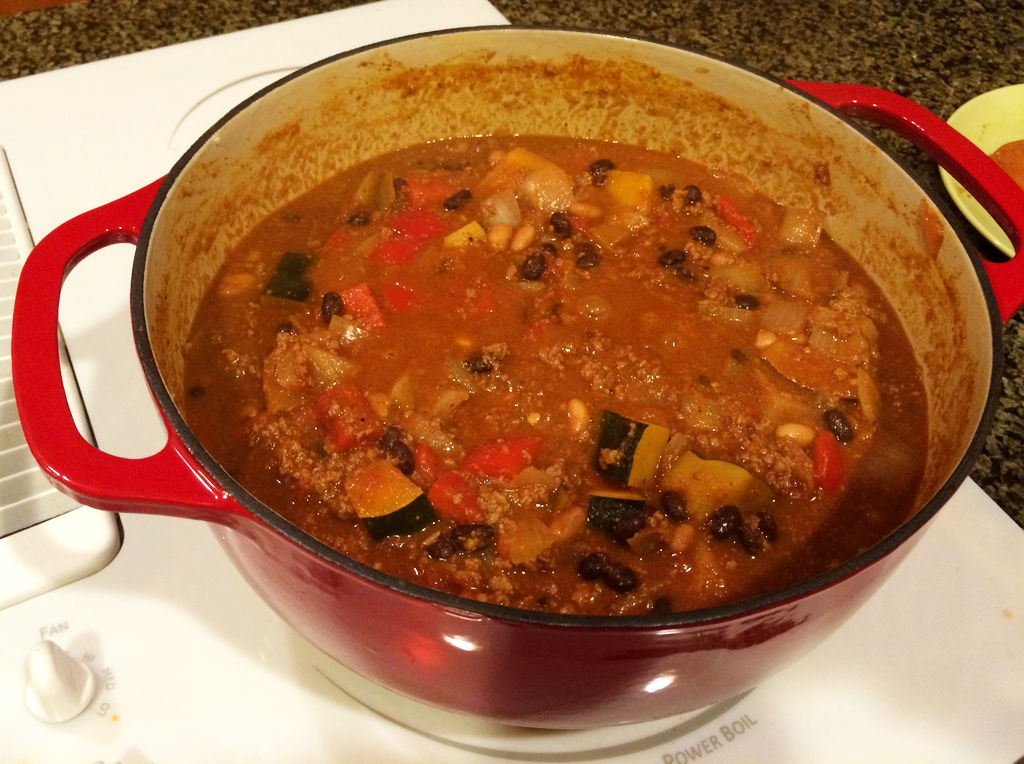 Almost all of this recipe is based off of this Award Winning Chili just with some Acorn Squash and a few substitutions from my pantry.
Acorn Squash Chili
Ingredients
1 large Yellow Onion
1 large Bell Pepper
1 medium Acorn Squash
2 Cloves Garlic
1 1/2 lbs. Ground Beef
1 15 oz. Can Tomato Sauce
1 14.5 oz. Can Roasted Crushed Tomatoes
1 14 oz. Can Black Beans (drained)
1 14 oz. Can Pino Beans (drained)
2 Tbsp. Cumin
2 Tbsp. Chili Powder
1 Tsp. Salt
1/2 Tsp. Cayenne Pepper
1/2 Tsp. Smoked Paprika
1/2 Tsp. Ground White Pepper
1/2 Tsp. Garlic Powder
Water
Olive Oil
Directions
Mince the garlic.
Dice the yellow onion and bell pepper.
Cut up the acorn squash into small 1 inch cubes. To cut the acorn squash, cut the pointy and and stem off the squash. Cut in half vertically and remove the seeds. Cut into strips, then cubes.
On medium heat, heat up your dutch oven with a little bit of olive oil. Add the garlic. When you hear the garlic start to sizzle, add in the onions and bell peppers.
After the onions start becoming translucent on the edges, add in your ground beef and 1 cup of water. Mash up and separate the ground beef as much as possible. Add in the acorn squash and cover. Reduce to simmer.
Checking every once in a while, once most of the ground beef has browned, add in the tomato sauce and crushed tomatoes.
Stir in all of the spices and salt. Cover and let simmer for about 25 minutes.
Once the acorn squash is tender (you can easily stab it with a fork), mix in the beans. Let cook for another 5 minutes.
Remove from heat, let cool a little, and serve.
This tastes great with some sour cream and cheese. I think it would have been nice to mix in some cinnamon, because the acorn squash almost seems like a substitute for a potato currently. It's good, I'm just wondering if some pumpkin spice would work in a chili… I think next time, I'll try to make a more warming spice blend, maybe roast and puree half the squash. I hope you enjoy.
Sugar pumpkins aren't as sweet as a butternut or acorn squash. They seem a little bitter. ↩