I'm not sure if you have ever had Pickled Peppers, but they are delicious. I'm not talking about banana peppers or salad peppers; I'm talking about fresh, sweet, delicious bell peppers pickled.
The sweetness of the bell pepper contrasts with the vinegar mixture providing a flavor explosion. They're crunchy, flavorful, and a breeze to make.
Homemade Pickled Peppers
You can do this with any type of pepper, but I like using yellow, red, and orange bell peppers. They provide bright colors, and I think they taste better than green peppers (but I'm pretty sure that's due to my childhood).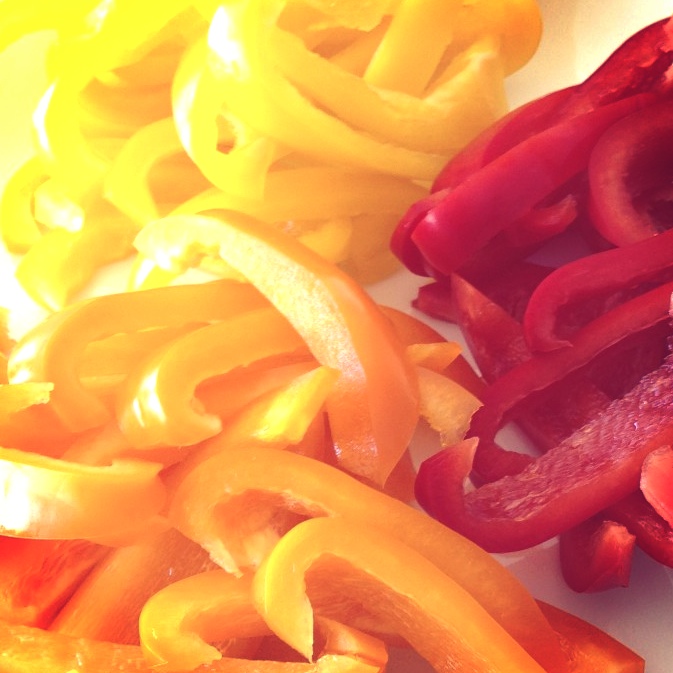 I have:
4-cup Jar
3 Peppers (Yellow, Red, Orange)
Crushed Red Pepper
Dill
Garlic
Pepper Corns
White Vinegar
Balsamic Vinegar
So the first step is to cut your peppers into strips.
For the pickling liquid, I use White Vinegar. In my jar, I add 1 table spoon sugar, 2 teaspoons salt, 12 pepper corns, 1/2 teaspoon of crushed red pepper, 1/2 teaspoon of dill, and 1/2 teaspoon of minced garlic. Fill up the jar with vinegar 1/3 of the way. Stir the mixture until the salt and sugar dissolve.
Cram the pepper slices into the jar. Make sure to alternate between colors as you fill the jar (I think it looks nicer).
Once the jar is full, top the jar off with vinegar. If you aren't a fan of the tartness of vinegar, fill the jar 3/4 of the way with vinegar and top off the rest with water.
To add some more color to the jar, I add just a little bit of Balsamic vinegar (~1 teaspoon).
Close the jar and shake it to get all of those spices mixed between the peppers.
You can use different types of vinegar and change the water to vinegar ratio. I like to play around with the mixture every once in a while. I'll add in Sriracha Sauce, mustard seed, ginger slices, or whatever else I find in my pantry to see what madness results.
You can also do this with other types of veggies. I like cucumbers and peppers the best.
I recommend letting the jar sit in the fridge for a day so the peppers soak in all the flavor, but keep their crunch. After a few days, they might start to get soggy, but they stay delicious.
These go great on top of salads, burgers, and are a great snacking item.